Full featured,
Enterprise Grade,
Open Source software.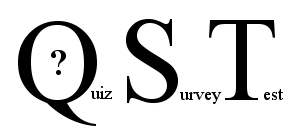 Your Complete Assessment Solution
with included GradeBook.
Compatible with Safe Exam Browser.



"Open-source software is a type of computer software in which source code is released under a license in which the copyright holder grants users the rights to use, study, change, and distribute the software to anyone and for any purpose."
- Wikipedia





Email: qstonlineinfo@shaw.ca

Copyright 2018-2021 QST Online LTD. All rights reserved.

Download






Screenshot Slide Show





Features







How QST
Works?

Take a QST







Get a
Demo Account








FAQ



Use our
subscription
service





About

Privacy
Policy

Terms and
Conditions






GradeBook






Question Bundles





Assessment made simple.


Intuitive QST Builder enables you to quickly begin assessing your users.

GradeBook provides insight and meaning to the results.

Open Source makes it pliant to your needs.

Platform scales to your demands.

Features constantly evolving.

Laptop, server or cloud.

QST.pm < 3MB